We are happy to announce that the new Worksheet Crafter 2018.2 is now available. This new version comes with many useful features requested by our customers:
Inserting Rows and Colums in Tables
Syllable Colorization in Tables
File Preview on Mac
Improved Search Capabilities in Worksheet Marketplace
More flexible clock, handwriting line and ten frame items
Many new fill patterns and templates
Any many improvements more…
All these new features, except for the file preview, are available both for the Mac and the Windows version.
Important Note
Make sure to also install the new Premium Content when updating to this version. The Premium Content has been updated as well.
Inserting Rows and Colums in Tables
You can now easily insert rows and columns into existing tables, or remove rows and columns from it. Use the new buttons in the table toolbar to access this functionality:

Syllable Colorization in Tables
All text exercises except for gap exercises can now be applied to tables as well, including syllable colorization.
Many new Premium Cliparts
We added plenty of new Premium Cliparts based on your suggestions. You will find them via the clipart search.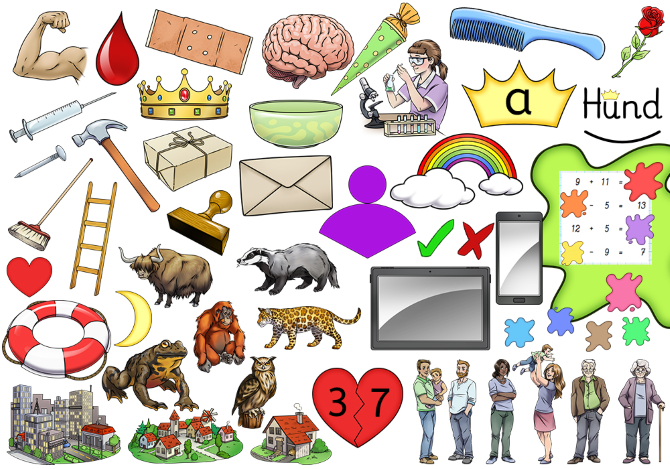 Improved Worksheet Marketplace
The worksheet marketplace user interface has been improved, making it easier for you to find suitable worksheets:
The dialog now supports a global search, allowing you to search for worksheets across categories
The sorting options have been improved and extended
You can now report a worksheet if you think it has illegal or non proper content. A report link is shown next to each worksheet preview images.
Improvements for Uploading Worksheets to the Market Place
We applied a few improvements to the worksheet upload process, to make it easier for you.
When selecting a category, Worksheet Crafter now opens a dialog in which you can choose the category from a category tree. The worksheet names of each category are immediately visible, so that you can directly spot whether your worksheet would fit in there.
Additionally, if you try uploading a worksheet with an unknown image then Worksheet Crafter now warns use. It will show you which images are potentially problematic, so that you can fix them.
File Preview on Mac
On Mac you will now see previews images of your worksheets directly in the Finder application: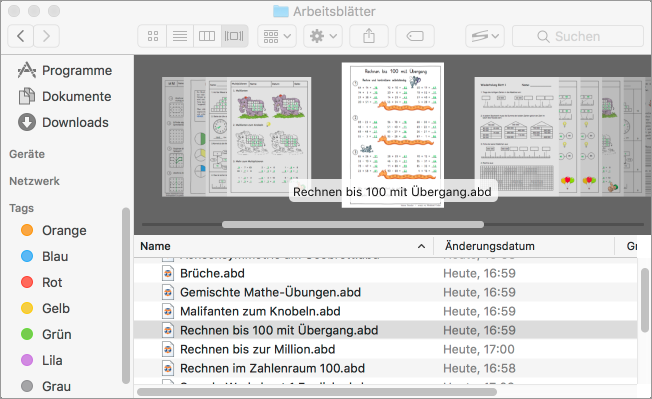 Period and Colons in Math Grid item
In the math grid item you can now add periods and colons to the characters as well.
Colored Watch Hands
The clock item now allows you to colorize the two watch hands. You can choose the colors on your own: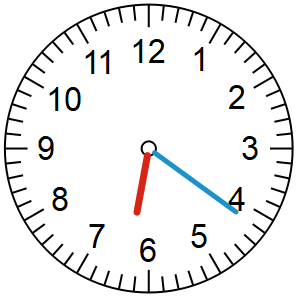 Configurable Background Color for the Handwriting Line Main Row
When enabling main row highlighting for a handwriting line you can now specify the color it shall use for the highlighting:

Configurable Color for Ten-/Twenty/Hundred Frame item
If the standard blue-red or grayscale colors are not suitable for you, then these items now allow you to set custom colors for the dots:

Printing a Range of Pages only
You can now choose to print specific pages only when printing your document. Previously you could only choose between all pages and the current (single) page.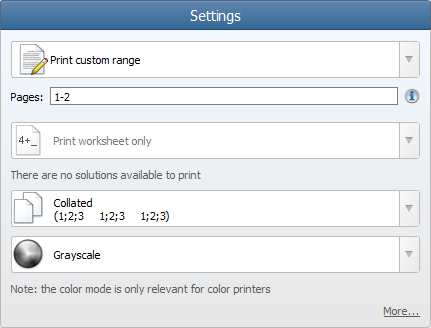 More Space for the Clipart Browser
The clipart browser now provides a button in its upper right corner. Pressing this button maximizes it to the full sidebar height, minimizing the other sidebar elements. This way you can temporarily get significantly more space for the clipart preview.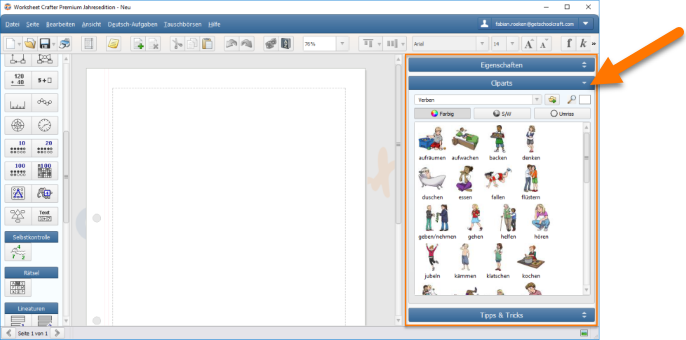 Worksheets Consuming less Space
We optimized the file format of our worksheet files. Documents with many images will now take up significantly less space on disk.
More then 60 further improvements
We applied more than 60 further improvements and bug fixes to Worksheet Crafter, to make it even more easier for you to use.
Announcement: The Future of Windows XP, Windows Vista and Mac OS 10.7 / 10.8 Support
This version 2018.2 of Worksheet Crafter still supports Windows XP, Windows Vista, Mac OS 10.7 and Mac OS 10.8. However, in upcoming versions of Worksheet Crafter these operating systems will not be officially supported anymore. The minimum requirements will then be Windows 7 and Mac OS 10.9.
How do I get the New Version?
If you already own the Basic or Premium Edition then you will get the new version for free, as part of your annual license. If you own the Unlimited Edition then you may purchase the new version for a reduced price. In any case you should receive an email with more information from us in the next few hours. If you don't get this email then please contact us.
I hope that you like the new version! I am looking forward to your comments.
Greetings,
Fabian