We are happy to announce that the new Worksheet Crafter 2017.2 is now available. This new version comes with many new features requested by our customers, such as:
Support for worksheet templates, with many useful examples
Integrated image search for OpenClipart and Pixabay
Useful improvements to lines and curves
Support for DIN A3 paper size
Symbol table for inserting special characters
Handwriting line font with arrows
Underlining and bordering math grid cells
Any many improvements more…
All these new features are available both for the Mac and the Windows version.
Important Note
Make sure to also install the new Premium Content when updating to this version. The Premium Content contains the new worksheet templates included in Worksheet Crafter 2017.2
Support for Worksheet Templates, with many useful examples
The new Worksheet Crafter comes with extensive support for worksheet templates. In the Premium and Unlimited Editions this includes many useful templates for circle puzzles, clip cards, dominoes, folded books and more:

You can access the templates via the Templates sub menu in the File menu.
Besides using our predefined templates you can also create and save your own templates in the new Worksheet Crafter. This allows you to easily reuse common worksheet layouts. Saving own templates is also done via the Templates sub menu in the File menu. As an optional feature you can mark a template as default template. This will instruct Worksheet Crafter to apply this template whenever you create a new worksheet.
Integrated Image Search for OpenClipart and Pixabay
The image search in Worksheet Crafter now comes with another useful feature. You can now search for images on OpenClipart and Pixabay directly within Worksheet Crafter. This gives you access to more than one million additional images which you can use without causing any legal problems.
The search is tightly integrated into Worksheet Crafter. Simply choose your search source here:

The results are as usual shown directly within the clipart browser: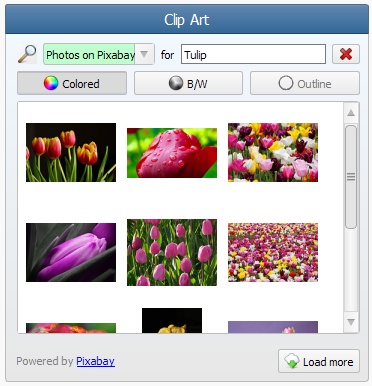 Worksheet Crafter automatically provides OpenClipart and Pixabay images both in the original colored version and as grayscale images.
Useful Improvements to Lines and Curves
Lines now automatically snap to 45° angles when moving one of their end points. This makes it much easier to create straight and diagonal lines. For curves this new snapping applies to 90° angles:

Additionally the end points of lines and curves now snap to end points of other lines and curves, which simplifies the creation of multiple connected lines. Last but not least we also declared the cell points in the math grid as such snapping points, so that placing lines in the math grid is now really easy: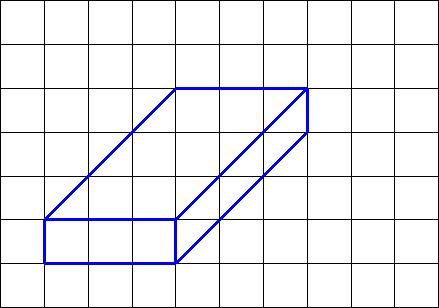 Support for DIN A3 Paper Size
As requested by many customers Worksheet Crafter now supports the DIN A3 paper size. You can configure this in the Page Settings in the File menu: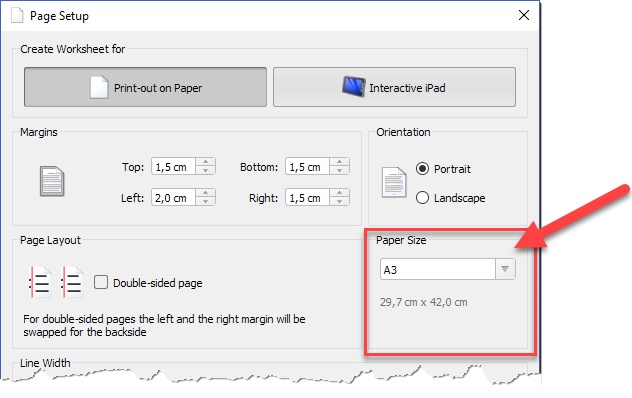 Symbol Table for Inserting Special Characters
The text formatting toolbar now provides a drop down table with commonly used special characters which can easily be inserted into text boxes and exercise items: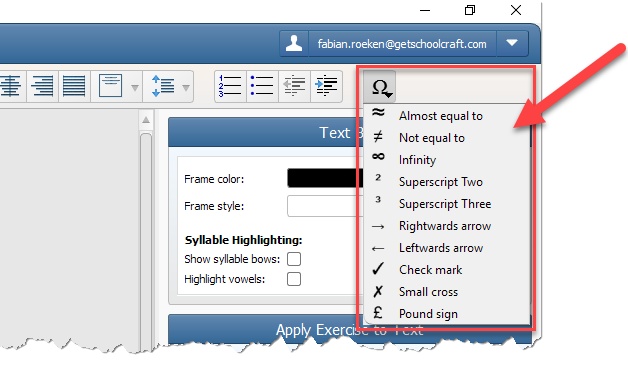 Handwriting Line Fonts with Arrows
Our handwriting line font is now also available with arrows. You can find this new font called WsC Lineaturschrift Pfeile in the font dropdown list:

Underlining and Bordering Math Grid Cells
The math grid items now offers buttons for adding thick frame lines to the cells. This can be used to underline cells or to place a thick frame around one or multiple cells: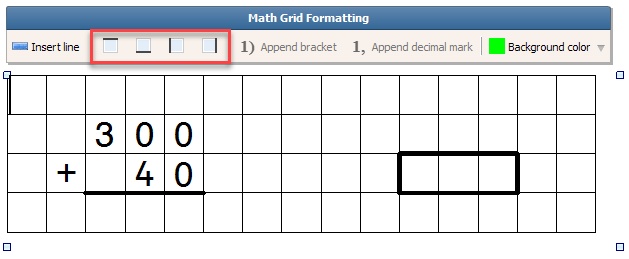 And many impovements more…
In addition to the improvements mentioned above we have also fulfilled many more smaller wishes our customers asked us for, such as:
Worksheet Crafter already supported pressing the Alt-key for performing a pixel-precise movement when moving or scaling items. The new version now shows a helpful hint when an item is being moved, so that everybody knows about this useful feature.
When moving multiple items the items now keep their relative position to each other
If multiple items overlap you can now use the TAB-Key to switch between the overlapping items
The clipart browser now shows the base name of own images as clipart name. Previously own images did not show any name.
On Mac pressing Cmd+? now opens the context sensitive help for the currently selected item
When sending worksheets via owl mail the link in the clipboard can now properly be inserted into Mac applications
If a worksheet has been corrupted then Worksheet now automatically tries to restore the content when loading that worksheet
A french dictionary for the integrated spell checker is now available
When using Worksheet Crafter behind a Internet proxy it should now automatically gather the proxy configuration and thus be able to connect to the Internet
… and 40+ further improvements
How do I get the New Version?
If you already own the Basic or Premium Edition then you will get the new version for free, as part of your annual license. If you own the Unlimited Edition then you may purchase the new version for a reduced price. In any case you should receive an email with more information from us in the next few hours. If you don't get this email then please contact us.
I hope that you like the new version! I am looking forward to your comments.
Greetings,
Fabian