We are happy to announce that the new Worksheet Crafter 2017.1 is now available. This new version comes with many new features requests by our customers, such as:
An integrated spellchecker
More flexible exercise generator for number operations
Optimized tags for Basic and Premium Cliparts
Dotted font for handwriting lines
Support for interactive worksheets on iPads
Any many improvements more…
All these new features are available both for the Mac and the Windows version.
Integrated spellchecker
The text item, table item and handwriting lines now support spell checking capabilities. Spell checking dictionaries for UK and US can be installed via the View menu. Once spell checking is enabled, misspellings will be highlighted in the application and can be corrected or ignored via the context menu:

The new spell checker makes it easier to track down misspellings and thus simplifies the creation of worksheets even more. It detect simple misspelled words. A grammar checking, e.g. regarding case sensitivity at the start of a sentence, is not included.
More flexible exercise generator for number operations
In the new Worksheet Crafter we greatly improved the exercise generator for number operations. The generator is now significantly more flexible and provides many options for creating differentiated exercises. The following new options are available:
Specifying the digit count and pinning digit values
For each exercise the value the number of digits and the allowed digit values can now be limited. Each digit can either have an arbitrary value (represented as an X) or a fixed (represented via the digit value). With this flexible system you can now easily create exercises such as Add hundreds to tens only or Complete to the value of 100.
The following configuration e.g. limits the generator to exercises such as 20+35 or 40+15:

Extensive possibilities for defining ten-, hundred- and thousand-overruns
In the new generator we greatly improved the possibilities for specifying the valid overruns (addition) and undercuts (subtraction). You can now specify all three overruns separately and thus combine them as you require. The overrun logic has been refined so that e.g. 12+15 is not treated as ten-overrun anymore. Plus, you can now accurately tell Worksheet Crafter whether your exercise must or must not have an overrun.

Exercises with or without zero values
The new exercises now offers the option to include or exclude zero values in your exercises:

Arbitrary number space for multiplication and division exercises
Previous versions of Worksheet Crafter could only create multiplication and division exercises in certain times table columns. The new version now comes with a new Exercise spectrum option which allows you to choose whether you want to limit your exercise to times table columns or to an arbitrary number space:

Intuitive user interface
We have spent many thoughts on embedding this new complex functionality in a simple and still intuitive user interface. The result is a comprehensive dialog for applying your advanced generator settings, which can be accessed as usual via the property editor at the right side of the application: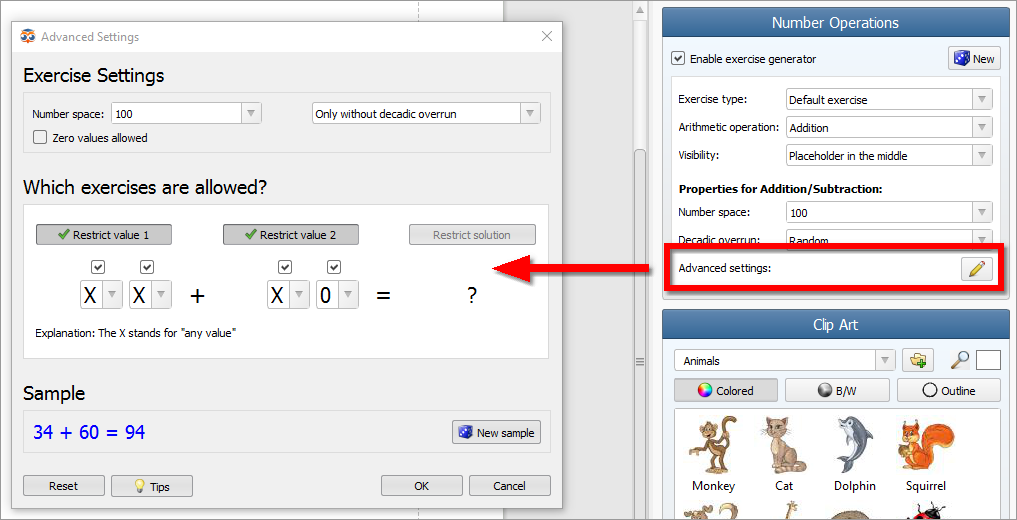 Optimized tags for Basic and Premium Cliparts
In the new version greatly optimized the tags for Basic and Premium Cliparts. We checked each image, added missing tags and improved the existing ones. Finding suitable images via our tag based search will now provide even better results: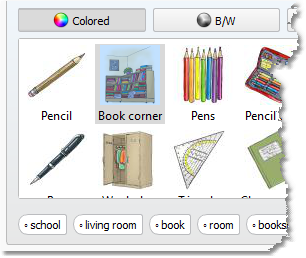 Dotted font for handwriting lines
Our handwriting font now also comes with a dotted version. You will find it in the font selection under the name WsC Lineaturschrift Dots:

Support for interactive worksheets on iPads
With Worksheet Crafter 2017.1 you can now create worksheets for the iPad. Exporting your worksheet to the iPad is done with a few simple clicks. The worksheets can then be solved interactively by your students, using our new Worksheet Go! app for iPads. Worksheet Go! provides extensive possibilities to adjust the experience to the capabilities of each single student.
Please note that Worksheet Go! is available in German language only so far. Please contact us if you'd like to see Worksheet Go! in English language as well.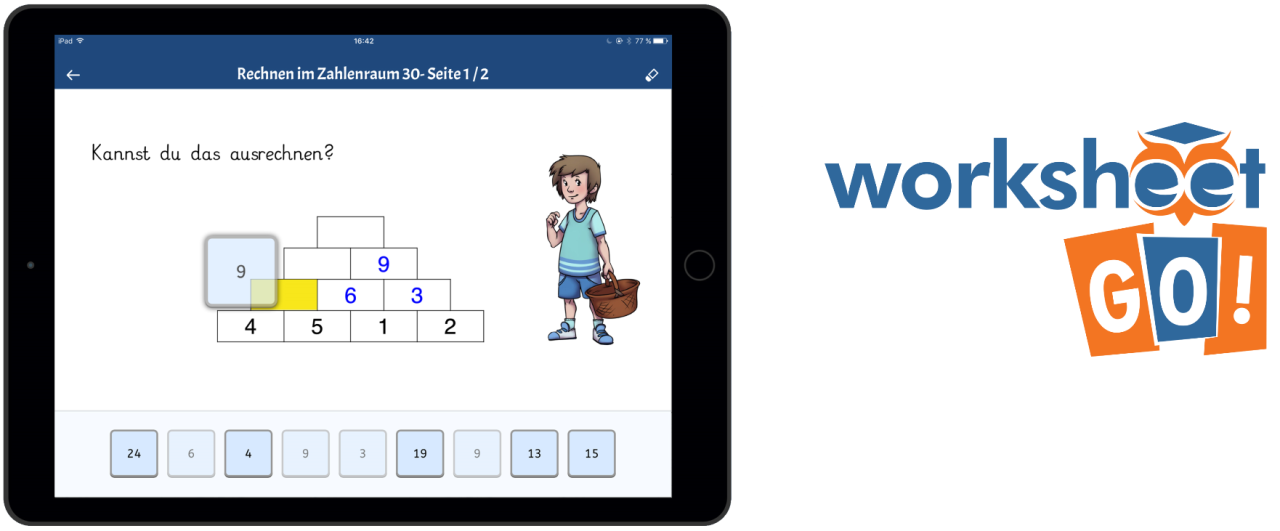 The current version already supports many math templates on the iPad as long as the exercise generator is enabled.
And many impovements more…
In addition to the improvements mentioned above we have also fulfilled many more smaller wishes our customers asked us for, such as:
The numbering item now supports ongoing numberings across multiple pages and remembers the previously used size.
Worksheet Crafter now remembers the hand-drawn style option and automatically applies your last configuration to new worksheets
The list of previously used worksheets in the File menu now provides a toolbar, showing the full path to the respective files
The story library dialog now accepts chosen stories via double
New premium cliparts: We have added images for glue and individual work (girl)
How do I get the New Version?
If you already own the Basic or Premium Edition then you will get the new version for free, as part of your annual license. If you own the Unlimited Edition then you may purchase the new version for a reduced price. In any case you should receive an email with more information from us in the next few hours. If you don't get this email then please contact us.
I hope that you like the new version! I am looking forward to your comments.
Greetings,
Fabian