I am happy to announce that the new Worksheet Crafter 2016.2 is now available. This new version comes with a set of new features requests by our customers, such as:
New Word Problem Item for Math Exercises
Improved Clipart Usability
Really useful tag based Clip Art search
Tools for Aligning and Distributing Items
Support for double sided worksheets
Number Ray with Arrow at end
Any many Improvements more…
All these new features are available both for the Mac and the Windows version.
Important Notes for the Installation
To get the new tag based clipart search working you will need to install both the new Worksheet Crafter and the new Premium Content. We will send you the update instructions via mail. If you are using an annual license of Worksheet Crafter then you will additionally be notified within the application.
New Word Problem Item for Math Exercises
With the word problem exercises the latest Worksheet Crafter supports a powerful new exercise template.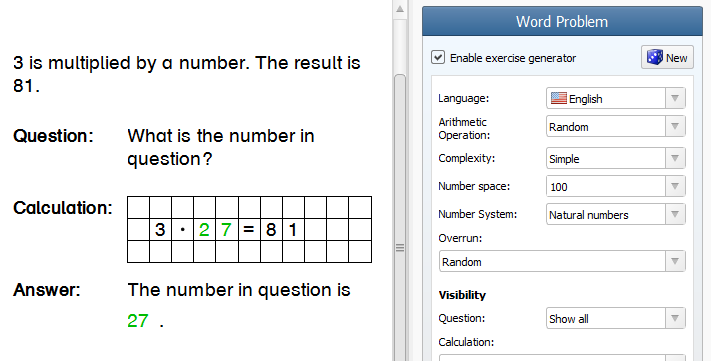 The word problem exercises come in various text variations. Both the arithmetic operations and the number space are configurable with the exercise generator. The solutions can optionally be printed onto an answer sheet. Modifications to the text can easily be applied in manual mode by deactivating the exercise generator.
The visibility of the various exercise sections (question, calculation, answer) is configurable so that different predefined content can be provided to the pupils. As a special feature the word problem item is the first exercise in Worksheet Crafter which supports real numbers.
Tag Based Clipart Search
Searching for clip arts is now easier than ever before. We have spent a significant amount of time on providing tags to all clip arts inside Worksheet Crafter. When searching for clip arts these tags now get considered as well.
Due to this new meta data the search now provides significantly better results. For example, searching for "water" will now not just return the "water" clip art but also related drawings such as a sink, a bathtub, a shower and much more: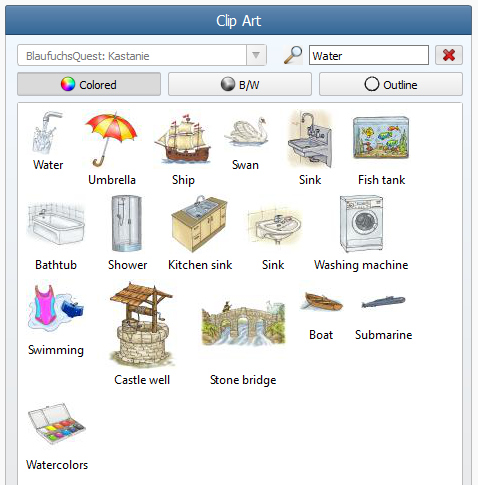 Important: The tag based search only works after you have installed the new Premium Content 2016.2. Updating just the Worksheet Crafter application is not sufficient.
Improved Clipart Usability
Working with clip arts has been improved in two different ways:
The list of categories now provides a hierarchical structure so that the sections don't have to be visualized with cryptic prefixed anymore.
When searching for clip arts the application will now automatically provide suggestions for search terms.
Tools for Aligning and Distributing Items
To achieve a beautiful and well structured layout it is helpful if the various items on the worksheet are properly aligned to each other. Exactly for this purpose Worksheet Crafter now provides helpful alignment tools in the upper toolbar. This way you can align or center items with a single click. Additionally items can now also be evenly distributed on the page with a single click.
Here is an example: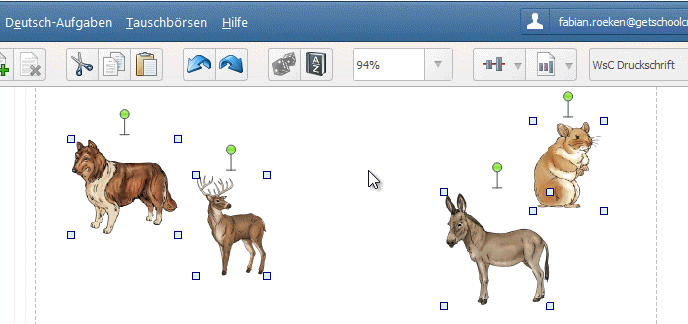 Support for double sided worksheets
Worksheets can now optionally be configured as "double sided" so that it is easier to print them on both sides of a paper. For double sided worksheets the left and right borders gets swapped on even page numbers, i.e. on the back page.
Here is an example: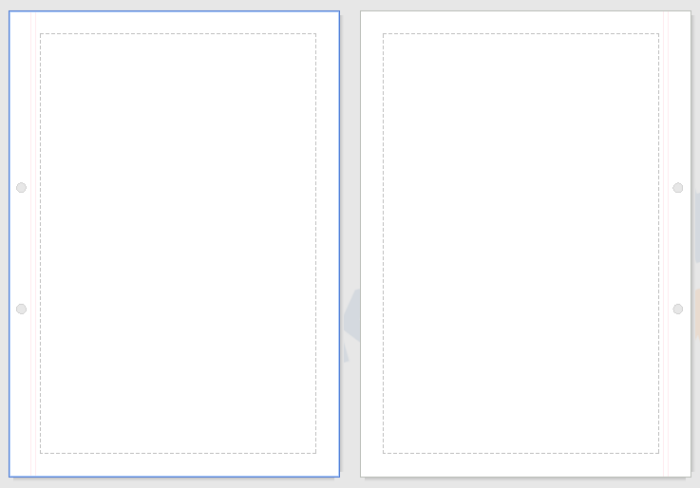 When working in landscape format this applies to the upper and lower border.
Number Ray with Arrow at end
The number ray can now be configured to show an arrow at the right side. This way you can highlight your pupils that the number space will not end at the end of the number ray but continue to infinite:

And many impovements more…
In addition to the improvements mentioned above we have also fulfilled many more smaller wishes our customers asked us for, such as:
The toolbar at the top now gets automatically spread across two rows in case it doesn't fit into one row, e.g. due to a small display resolution.
When undoing changes to the text item and handwriting lines the application now also restores the original size of the item.
How do I get the New Version?
If you already own the Basic or Premium Edition then you will get the new version for free, as part of your annual license. If you own the Unlimited Edition then you may purchase the new version for a reduced price. In any case you should receive an email with more information from us in the next few hours. If you don't get this email then please contact us.
I hope that you like the new version! I am looking forward to your comments.
Greetings,
Fabian