Once again we've completed a new Worksheet Crafter version for the new school year.
For the new version 2013.5 we dealt with a lot of your requests relating to the ease of use. Here's an overview of the most important improvements:
Support for worksheets with multiple pages
Selecting and editing multiple items
Rotating and mirroring of images
Pleasant new color scheme
Integrated free block letter school fonts
And many more improvements… 🙂
And now we'll have a closer look at each of the improvements…
User Interface with New Pleasant Color Scheme
The new Worksheet Crafter version provides a much more pretty user interface. Some of you may already know our new user interface.
We hope that these quiet colors make your work much more agreeable. And if the new and beautiful user interface gives you pleasure at work, the more happier we'll be.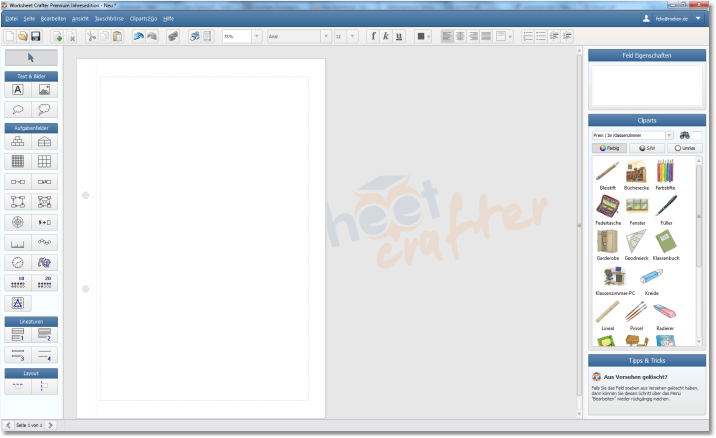 Support for Worksheets with Multiple Pages
One of the most frequent requests is now available:
With the new Worksheet Crafter you can now create worksheets with multiple pages and save them as a file. We also revised the corresponding view which now allows you to arrange multiple pages not only horizontally but also vertically. This is particularly convenient on advanced widescreen displays.
To further facilitate your daily work we included new commands for copying, cutting, and pasting complete pages.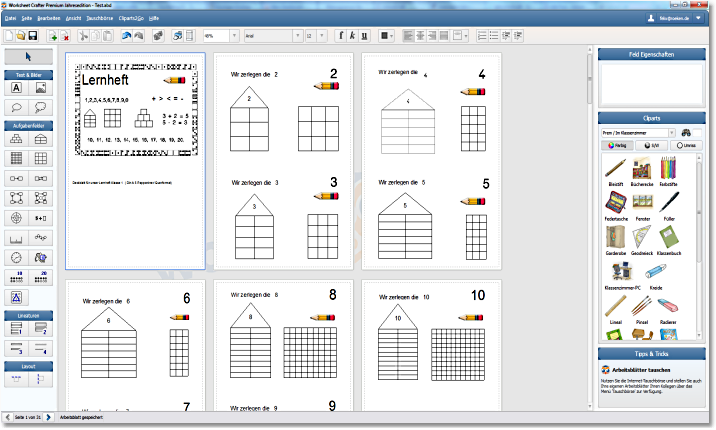 Editing and Selecting Multiple Items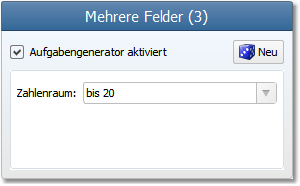 When working with items you now can select and edit several items at once. Use this option to simultaneously move, enlarge, or complement multiple items with new exercise values. This also facilitates the copying of multiple items to Word.
As a special goody it is now also possible to edit common properties in the Property Editor. You now can select multiple exercise items to change the number space of all the items with just one click.
Rotating and Mirroring of Pictures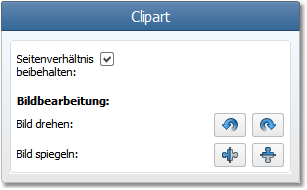 Clip arts and inserted images can now easily be mirrored or rotated by steps of 90 degrees. When selecting an image the new image editing options are displayed in the Property Editor.
Integrated Free Block Letter School Fonts
The new Worksheet Crafter provides some free block letter school fonts which can be safely used in worksheet presentations. We've also included an outline font and several fonts for DRD tuition.
Many thanks to Anja Meiners, Christian Urf, Florian Emrich, Peter Wiegel and Ruben Rimmler for providing us with these fonts.
More Convenient Font Selection
The new version includes a considerably improved font selection menu which enables faster access to the desired fonts.
The recently used fonts are now listed separately to facilitate the selection. In addition the new integrated school fonts are displayed in a separate pane.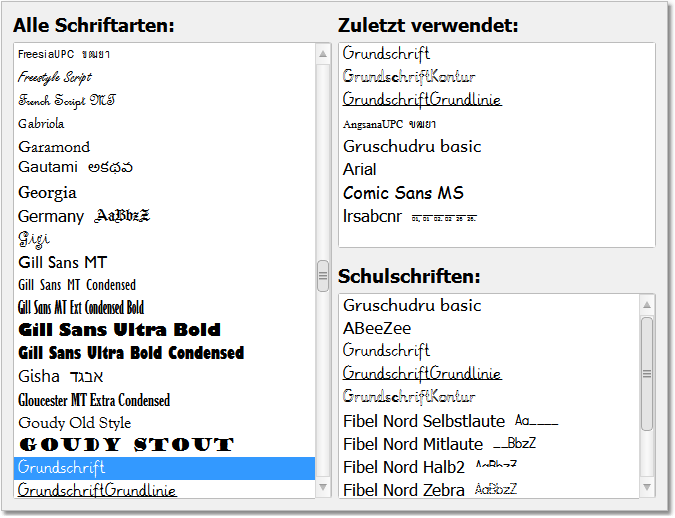 Quick Access to the Variation Generator
A new command in the toolbar in the upper part of the windows allows you to calculate new exercises for all exercise items on your worksheet with just one click. Use this command to create and print several worksheet variations.
The command itself isn't new but now it's positioned more prominently.
Background Color and Toolbar of the Math Grid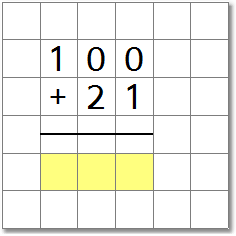 We've invested a lot of work in further facilitating the math grid usage. When selecting a math grid you will now see a little toolbar above the item. This toolbar clearly represents the various math grid options which you can select with just one click.
Additionally we've upgraded the math grid. You now can set the background color for each of the boxes. You can for example highlight the solution boxes in gray which have to be completed by the students. This new option is also part of the new toolbar.
Speech Bubble with Fixed Background
You now can fill speech bubbles with an optional white background. Up to now the speech bubbles used to be transparent and the background images were visible.
Use this new property to place the speech bubble in front of an image while placing the text on a white background.
Moving Items Intelligently
When you move items Worksheet Crafter now automatically keeps them within the page. You don't have to worry about moving items into the "Nirvana" beyond the page.
The program now also acts much more clever when you add items and clip arts to the worksheet: oversized items and clip arts are automatically reduced to a reasonable size.
And Many More Improvements…
In addition to the improvements listed above we've also implemented many minor customer requests in the new version:
We've revised the color selection button on the format bar in the upper part of the window to reduce the required number of clicks
If you touch the view margin when moving items, the view now moves automatically to the desired direction
The handwriting line item now supports an height scale of up to 500%
The shape of the cursor now indicates feasible actions
It is now possible to freely enlarge or reduce the sidebar on the right for example in order to show more clip arts simultaneously
Initial Feedback of our Beta Testers
Some of our costumers had the opportunity to test our new version in advance. Here's some excerpts of their feedback:
"The way you're implementing our requests is just awesome."
"Once again I can only say: It's great. Many thanks!!!"
"On the whole it again is a successful version and working with the program is fun."
"All things considered Worksheet Crafter is my favorite program by now."
"Your new program is absolutely exciting and I'm amazed how you've managed to improve it so stunningly in such a short time."
How do I get the new version?
If you already purchased the Basic or Premium Edition you receive this update free of charge as a part of your yearly license. If you already purchased the Unlimited Edition you can optionally purchase a separate update package at a reduced price. We've already sent you an email with the corresponding information. If you didn't receive our email please contact us.
We hope you like all the improvements and we're looking forward to your comments!
Kind Regards,
Fabian and Felix Röken